FRANK-LY SPEAKING: A CHAT WITH OUR CFO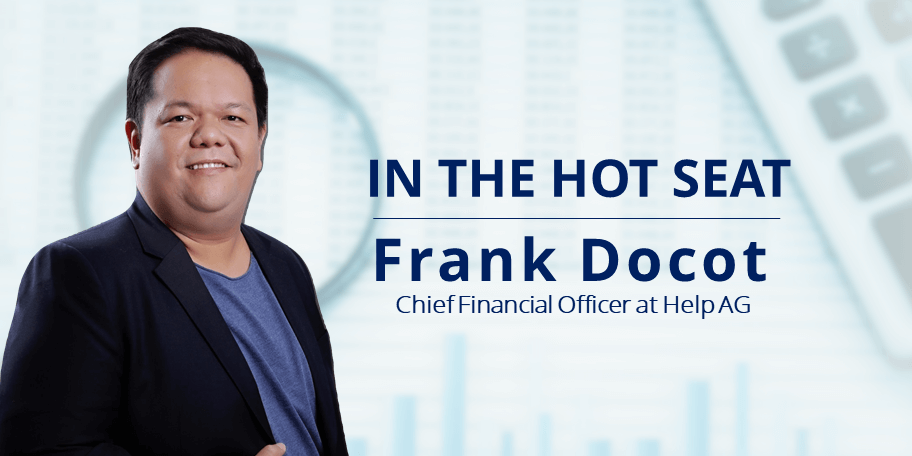 In this employee profile, we sat down with Frank Docot (FD), our Chief Financial Officer(CFO) to learn about what put him on his career path, what his typical work day entails and why there's indeed 'fun in numbers'.
What got you interested in a career in finance?
FD: I grew up helping in my parent's grocery stores with tasks like writing cheques to suppliers. It was then that I noticed my mum crunching numbers before letting me know how much we had to pay, and I was intrigued to know how she always arrived at the right figures.
Though in my early years had imagined I would be a reporter or a teacher, now in a way I feel like these interests have coalesced in my decision to get in to finance. I report numbers and work on delivering educated interpretations for the management and business heads.
Could you tell us about your career path and how that's led up to you being the CFO at Help AG?
FD: I have worked for companies in the real estate, accounting, facilities management and banking sectors before joining Help AG. While this represents a diverse spread, the beauty of finance is that numbers are constant across industries which makes such transitions possible.
That being said, you need to understand the industry you work in to know what drives the numbers, the revenue generating factors, the common expenses, the suppliers and top players, and industry challenges. These are unique to each vertical and finding the answers is both challenging and rewarding.
What does a typical day at work for you entail?
FD: We have cycles in finance- we start the year with closing the books for the previous year. Then we conduct an audit and present the previous year's results to the management. In the middle of the year, we do a re-forecast of the budget and towards the end of the year, we prepare the budget for the following year.
Then on a monthly basis, we have closing activities such as preparation of project P&L, reconciliations, etc. We tend to dedicate the first five days to month-end closing activities. The following week we dedicate to sharing the numbers and our analysis to managers, directors and the board. And we wind up with a forecast for the following month.
And to answer your question, daily, it's all about connecting the pieces and contributing to the bigger picture to make sure everything stays on course. So, while it involves fairly regular activities such as checking email, meeting with managers, following up with customers and suppliers and such, what I'm really doing is making sure that whatever has been planned for the year and the month is on track.
What do you love most about your job?
FD: I love forecasting! It's almost like being able to predict the future- depending of course on clever analysis of tangible factors. In finance, its important to have the right qualifications and certifications, but what I believe sets me apart is my specialization on management reporting and then translating it clearly and concisely to management.
The norm in the finance industry is that people tend to be very technical and process oriented. They keep up to date with the latest accounting standards and consider success to be simply doing things most efficiently. However, they fail to see their role in helping shape business decisions and this is actually one of the most rewarding parts of our job. I personally don't only strive to be a technical specialist but also a business partner. I challenge myself to understand the dynamics that shape the numbers.
I therefore say that I love to close (the books) and disclose (my interpretation of the numbers to all stakeholders within Help AG).
What do you believe is your biggest career accomplishment?
FD: When I took up accounting in college, I knew I wanted to be a controller or a CFO. Being promoted to CFO at age 32 was a huge personal achievement.
And what's the next career step?
FD: I want to be someone who can drive strategic change through the organization. And looking even further down the road, I want to give back to society- my passion is teaching and before I joined Help AG, I was a volunteer teacher of financial literacy through a program organized by Standard Chartered. It's something that I would like to continue to pursue.
If you had to share any 'words to live by' what would they be?
FD: It might sound cliché but something I always share with people, especially my nieces is 'If you ever have to make a decision, chose the option that makes you happy'.
And finally, if you won the lottery, what would you do with your winnings?
FD: If we're talking about winning a lot of money, the first thing I would do is to make sure people didn't know I won – I would hire the best lawyers to ensure this. I'd then identify and work with the right fund managers and tell with them how much money I'd need monthly, so they can provide an investment plan accordingly (sorry, I am a finance guy after all!).
And finally, I'd appreciate winning not just for the money but for what it would permit me to do which is dedicating more time to what I'm passionate about- in particular, teaching and travel!