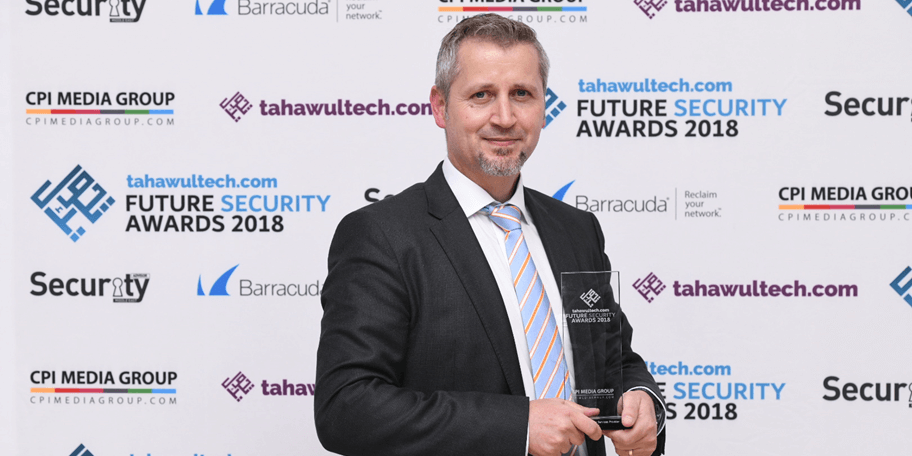 Last week marked a truly memorable achievement for Help AG—we were named the 'Best Managed Security Services Provider of the Year' at the prestigious #FutureSecurityAwards hosted by one of the region's most trusted sources for news and analysis of the IT industry, Tahawul Tech. Now, it is true that over the years, we've amassed an impressive collection of awards from industry analysts, our vendors, and customers. And while we have been honored and humbled by each of these, this latest award holds a special place in my heart.
Over a decade ago, when Help AG was established in the Middle East, cybersecurity was an afterthought, akin to insurance- something no one really wanted to invest in and yet something everyone wanted to have when things went wrong.  Our years of effort in educating the market by working as the region's trusted security advisor played its part in changing this mindset and today, security is top of mind even for non-IT decision makers.
From the very onset, we led the cybersecurity market and we have remained determined to maintain this leadership position. This is why we began to develop our Managed Service portfolio four years ago- a point at which few players in the industry saw its potential to address key customer challenges, and fewer still were ready to make the significant investments it required.
We had a clear vision and believed excellent MSSP to be analogous to the favorite childhood dishes prepared by mums across the world. All the ingredients are handpicked, utilized in the most refined way, blended as per a stringent process, improved upon over years of experience, and provided to the people most cared for- all personally created and served by the best person in the world.
We worked tirelessly to engage with customers, uncover the challenges they faced and understand their needs. When it emerged that data confidentiality, integrity, and location of data, and SLAs were the reason they were hesitant to adopt MSS, we addressed their concerns by ensuring all our services are delivered locally and in full compliance with local laws. We then went a step further and undertook the labor-intensive task securing the Information Security Management System ISO/IEC 27001:2013 certification. This followed exhaustive internal and external audits which confirmed that we implemented over 110 stringent security controls relating to Physical & Environmental Security, Technical Security, Personnel Security, Supplier Relations, Operations Security, Business Continuity, Incident Management, and Compliance.
As a result of these efforts and investments, today we boast what is likely the most comprehensive portfolio of Managed Security Services in the region, addressing key customers challenges around 24×7 Security Monitoring, Security Event Management and Incident Response, Managed Threat Intelligence and much much more.
This award presented me with the opportunity to reflect on this journey. And what came to mind most prominently is that "none of us is as smart as all of us". All credit for our leadership in MSS goes to our T.E.A.M., customers and business partners who work together towards a common vision- Help AG-as-a-Service.