A Great Time After a Riyadh Day's Work!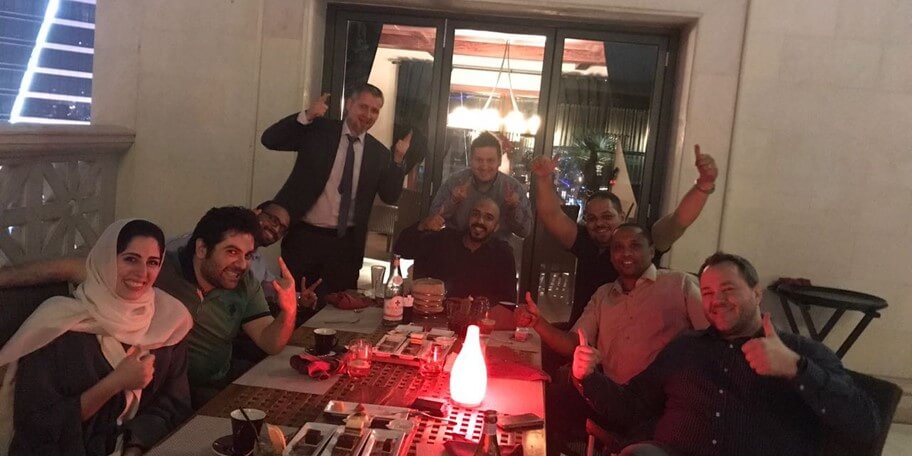 We recently held our quarterly team dinner in Saudi Arabia and I thoroughly enjoyed being surrounded by the team of dedicated professionals. It's no secret that over the last year, the Kingdom has been anything but an easy market to conquer but they've done an excellent job. So, I thought it would be a good time to reflect on the IT market in the Kingdom and how despite the economic challenges, Help AG continues to grow its business.
A Glimpse into the KSA IT Market
The Saudi market has gone through a shake up in the past 12 months with the government delivering its 2030 strategy and pushing back on departments to change the way they conduct business. This has driven the smaller relationship-driven channel partners to refocus or in some cases fold up.
This meant that in 2016, the market for new technology was a little stilted but at Help AG, we saw that that if you can prove return-on-investment (ROI) and demonstrate a real need for a solution, customers are still willing to invest.
Businesses in Saudi Arabia are maturing quickly and are therefore demanding a higher quality of service, and ROI. They are now able to see through the sales patter of companies that lack that technical skills to back their claims. They are instead looking to specialist partners such as Help AG who can actually design, implement, configure and support end-to-end information security solutions as well as perform world class Cyber Security Services.
Help AG's Play in the Kingdom
We are taking traditional vendors such as F5 Network, Palo Alto Networks and Symantec-Bluecoat to market but with a focused services angle. This enables us to really deliver SOLUTIONS to our customers- not just point-product based implementations. We're also working with some hand-picked differentiators like Opswat, Menlo Security and NETconsent that add to and enhance the existing security landscape, while also taking cyber defenses to new levels.
I credit all the success we have enjoyed in KSA to our TEAM! Everyone is committed and ready to go the extra mile whenever required.
Our quarterly dinner was the perfect opportunity to for me to bond with the Help AG family in Saudi Arabia, though we all missed members of our support, service delivery, and analysis teams who couldn't make it as they were busy making good on the 24×7 information security services we offer our clients.
While others may complain about the business challenges in the country, I stand firmly by my belief that Saudi Arabia is the most strategic investment Help AG has ever made and there is no doubt that this will continue for many years to come. So long as we continue to enjoy the tremendous support of our security specialists and customers, I'm confident Help AG will enjoy ongoing success in the Kingdom.
 Blog By:
Stephan Berner, CEO at Help AG