Etisalat partners with Smart Dubai to enhance cyber security at partner government entities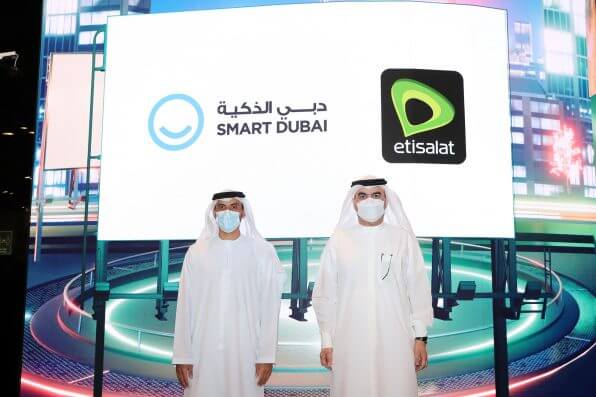 Etisalat has partnered with Smart Dubai to provide a comprehensive suite of multi-layered cyber security services and skilled expertise that will further strengthen Dubai government entities' resilience to cyber attacks. The services will be offered by Help AG, the cyber security arm of Etisalat Digital.
Smart Dubai is the government department tasked with spearheading Dubai's digital transformation and leading the efforts to build a world-leading smart city in the emirate, with cybersecurity being a key part of this mandate. A preferred partner of major enterprises and government entities, Help AG offers strategic consultancy, analysis, system integration, project implementation, governance and operations of tailored security solutions and services.
Etisalat will leverage the extensive experience and real-time visibility into the regional threat landscape to deliver robust round-the-clock protection for Smart Dubai's critical digital assets. A unique advantage for Smart Dubai, considering the nature of its mandate, is that Etisalat's services are in full compliance with the UAE government's regulatory frameworks.
As Dubai government agencies communicate through the Government Information Network, managed by Smart Dubai, this partnership will serve to proactively safeguard ongoing citywide smart transformation initiatives.
A multi-layered approach of cyber defence is in place to provide protection, support the UAE Vision 2021 and its digital transformation objectives, and help reinforce the UAE's National Cyber Security Strategy and the Dubai Cyber Security Strategy.
Commenting on the partnership, Abdulla Ebrahim Al Ahmed, Senior Vice President/Government Sales at Etisalat said: "Etisalat is proud to work with one of the most innovative government entities in the UAE and the world. Smart Dubai is a partner with a great set of expectations and requirements, which drives us to optimise our service offerings to the benefit of the greater customer community.
We look forward to effectively empowering Smart Dubai's cyber security infrastructure and delivering tangible value to all Dubai government entities, enabling smarter and more secure transformation initiatives that will help drive the digital economy."
His Excellency Wesam Lootah, CEO of the Smart Dubai Government Establishment (Smart Dubai's technology arm), said: "Smart Dubai's mission consists of exploring advanced technologies and channelling them into services that make life easier and happier for Dubai's citizens, residents, and visitors. It is a significant undertaking that calls on various government entities to work together and coordinate, and with that in mind, Smart Dubai launched the Government Information Network and a host of digital infrastructure projects to connect these entities and allow them to transfer and exchange data."
"This makes matters of cyber security a top priority for us and for our partners and we are constantly working to further enhance the safety and security of our network. This partnership we are signing with Help AG, Etisalat Digital's cyber security arm, is a significant step forward in that direction, allowing us to benefit from the company's extensive expertise in the field," H.E. Lootah added.
Smart Dubai is the government office in charge of facilitating Dubai's citywide smart transformation to empower, deliver and promote an efficient, seamless, safe and impactful city experience for residents and visitors. The office has been innovative and pioneering in acting as a trusted advisor, as well as creating information security and cyber resilience standards for government and semi-government entities. The robust set of governance requirements in place have set a benchmark for the entire region.