SECURITY SPOTLIGHT FORUM JUNE 2018 ROUND UP-AI & ML IN CYBER SECURITY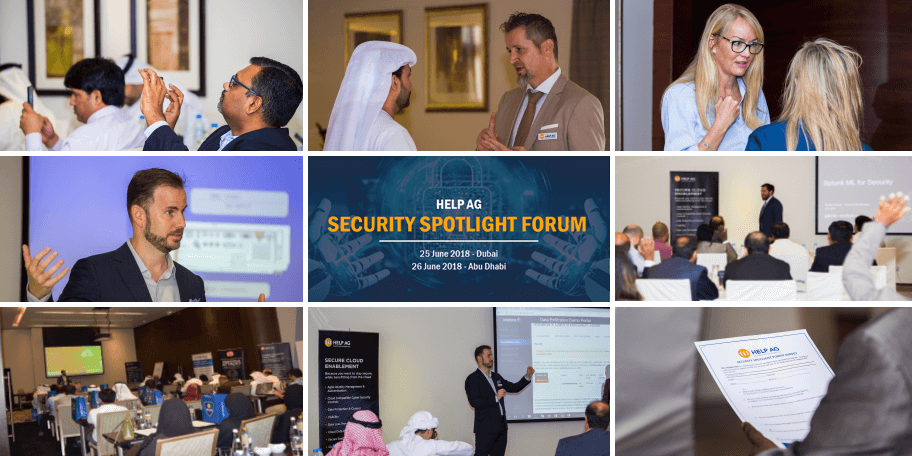 Security Spotlight Forum (SSF) is Help AG's flagship cyber security event aimed at getting attendees up-to-date on the latest innovations in various aspects of cybersecurity, while also providing an excellent platform for networking among our partners and customers.
Its latest edition, held in June 2018, was centred on the theme of 'Artificial Intelligence (AI) and Machine Learning (ML) in cybersecurity' and featured deep dives into various elements of the topic by top executives from Help AG as well as five of our vendor partners. While there's nothing quite like being there yourself, we thought it would be beneficial to share some of the key takeaways from these informative presentations.
Practical Implementations of AI and Use-Cases in Cyber Security (Presentation by Help AG)
'AI Everywhere' was one of the emerging technology mega-trends in the Gartner Hype Cycle for 2017. 2018 is expected to be the year when the buzz turns into affirmative action, and long-term adoption of AI will begin. The future is here, and AI is rapidly becoming an essential part of our business and that of our clients.
The technology is enabling timely decisions and actions in the face of increased amounts and complexity of data and threats. At Help AG, we are using AI/ML to enhance our services across all service lines and will continue to identify powerful use cases for AI to fulfil the cyber security and data analytics requirements of our clients.
Both Good and Bad Network Flows Start with a DNS Request – Machine Learning Powers the Detection (Presentation by Infoblox)
Cyber attackers are increasingly sneaking out corporate data through the Domain Name System (DNS). AI and ML can enable cybersecurity teams to mitigate unprecedented threats, specifically the ones that use DNS.
Infoblox ActiveTrust Cloud blocks DNS based data exfiltration, stops malware communications with command-and-control servers, automatically prevents access to content not in compliance with policy, and shares intelligence with your existing security infrastructure for orchestration and faster remediation.
Infoblox is offering free trials on ActiveTrust Cloud eval, ActiveTrust (on-premises) eval, Security(PCAP) assessment and Security(DEX) assessment.
Securing Multi-Cloud Infrastructure with Machine Learning & AI using F5 Advanced WAF (Presentation by F5 Networks)
Reporting on attacks, rather than on policy violations saves time and resources. Powered by AI, this is the real-world value that F5 Networks brings to customers. By using ML in their Advanced WAF platform, the company is bringing this technology to clients to identify web-attacks before they have an impact.
Despite the best efforts during secure application- and patch-management processes, half of all applications remain vulnerable. F5's Advanced WAF protects against the most prevalent attacks on apps, without having to update the apps themselves. It helps defend against attacks that target bot protection, application-layer encryption, APIs, and behaviour analytics.
The Platform is the Product and it is Powered by ML and AI (Presentation by Fortinet)
Modern cyber security solutions are much more than just the hardware and software they run on. True protection comes from a platform, which is powered by threat intelligence and behavioural analytics.
The Fortinet Security Fabric segments the entire network— from the Internet of Things (IoT) to the cloud— to provide superior protection against sophisticated threats. The company has combined its advanced AI-based machine learning capabilities with its FortiWeb Web Application Firewall (WAF) to protect web-based applications from attacks targeting known and unknown exploits with near 100% threat detection accuracy.
FortiWeb  uses a two-layer approach of AI-based machine learning and statistical probabilities to detect anomalies and threats separately. Thanks to this, the Fortinet AI system has self-learned 5 billion features that help in identifying malicious files.
AI and Machine Learning make threat detection smart – In network and on the endpoint (Presentation by Symantec)
From endpoint to event management, Symantec utilizes AI and ML to identify new attacks even when clients are disconnected. The company envisages that in future, AI-powered cyber security solutions will anticipate attacks and change configurations on the fly to make systems more secure.
Everything from the endpoint to SOC can now be enhanced by ML. Symantec Information Centric Analytics, powered by Bay Dynamics, integrates and analyses information from platforms including Data Loss Prevention (DLP), endpoint security and Cloud Access Security Brokers (CASB), among others, leveraging advanced User Behaviour Analytics (UEBA) to provide unparalleled visibility into emerging cyber breach incidents.
Data Speaks to you…Machine Learning Makes You Understand (Presentation by Splunk)
AI takes big data to the next step by quickly making sense of all the bits and bytes being indexed and queried. Splunk and Machine Learning are a natural fit and the company's Core Splunk solution comes with built-in ML capabilities.
The Splunk Machine Learning Toolkit extends the Splunk platform's functions and provides a guided modelling environment. With the Splunk UEBA, AI and ML can be brought directly on-premises for clients, allowing organizations to make better decisions on which events to focus their analyst's time on.
Final Word
We thank all our partners and customers for making this event a grand success.
As always, our SSF proved to be the perfect platform to showcase how the application of AI and ML in cybersecurity can help them enhance security efficacy, improve operational efficiency, and help deliver highly secure business-enabling IT initiatives.
If you couldn't make it, we hope this summary gave you a little insight into how leading cyber security companies are advancing the field. And we hope that it has also served to get you excited to attend our next edition which will focus on 'Secure Cloud Enablement'. We look forward to seeing you there and until then, stay connected to Help AG Middle East through our social media channels, LinkedIn and Twitter for all updates related to our solutions, services, cyber security trends, expert insights and events.
You can watch a quick round up of the event here.