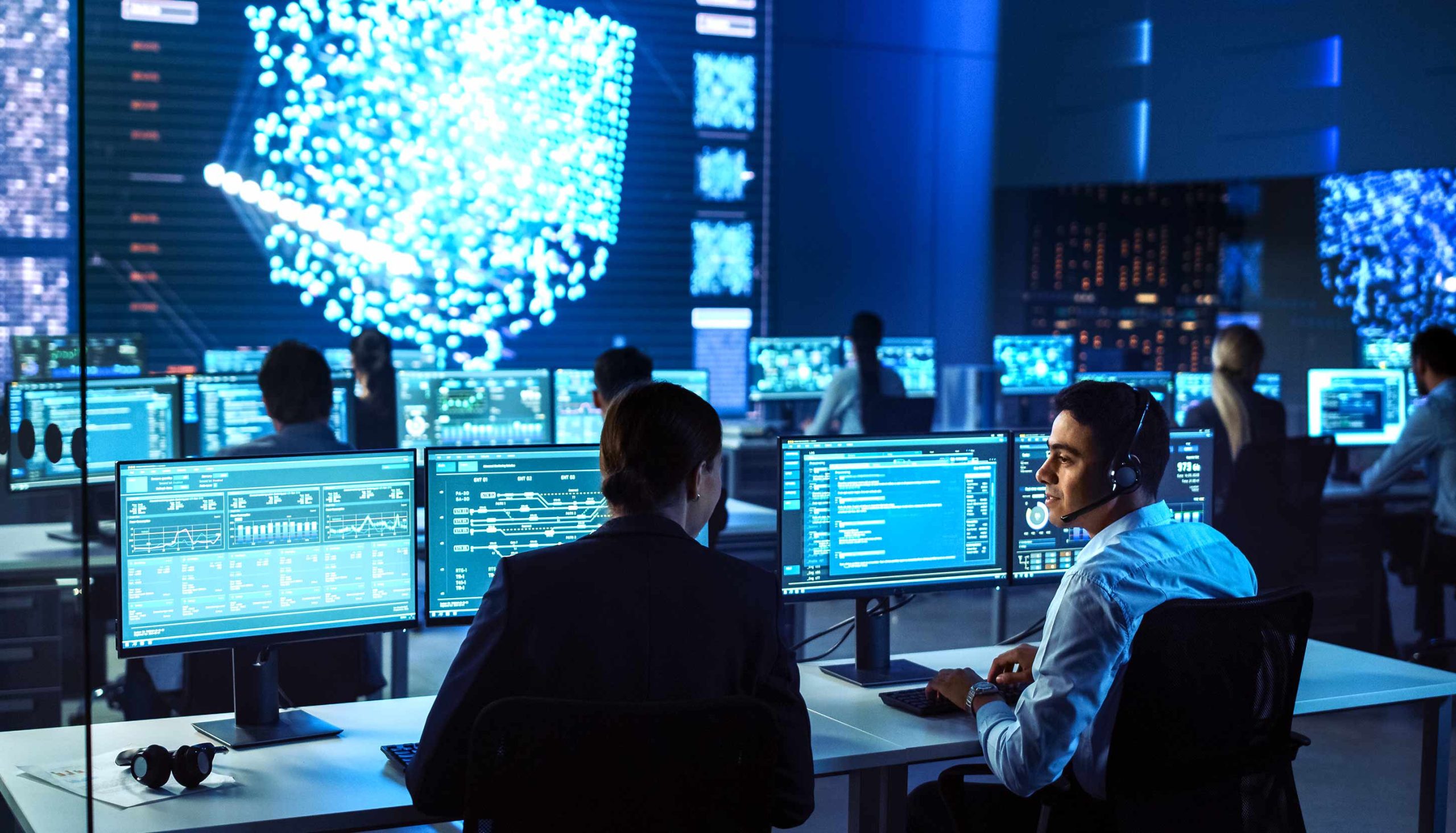 In the inaugural edition of Help AG's State of the Market Report, an article we published on 'Service-Centric Business Evolution' had stated: "As a pioneer proponent of the 'service-centric approach', Help AG has been building offerings that customers can avail 'as a service' based on state-of-the-art security platforms and tools." In addition, we elaborated that "The modern-day CISO is also presented with an opportunity for a full-scale innovation – a chance to adopt a resilient, cost-effective model by availing a 'service-centric' approach to their cybersecurity strategy, rather than just being technology focused, with continuous 24×7 access to cybersecurity talent and innovative partnership models.
As a continuation of this topic, this article will discuss a few key drivers as to why the market is adopting the 'Service-Centric Business Evolution'.
Secured by Experts
The insurmountable challenge organizations face today during increased digital transformation is the inability to ringfence and upskill their workforce to fight sophisticated modern-day threats and attacks. This challenge isn't always about a lack of training budgets. Organizations today are beginning to accept the fact that insourcing capabilities in this complex threat landscape when your business is transforming at the speed of light isn't an option. The widening skill gap within the cybersecurity industry isn't helping either. Considering this, access to skilled cybersecurity expertise or embracing a "Secured by Experts" option, while organizations focus on their core business, is the primary driver behind why businesses are partnering with cybersecurity service providers or MSSPs that have undergone a 'Service-Centric Business Evolution'.
Predictive Spending
To stay ahead of the curve, organizations are forced to embrace digital transformation even while they are reeling under the effects of a global pandemic. While supporting the ever-increasing business demands, there is an over dependency on IT, be it adopting the cloud, going perimeter-less, or accepting a remote work model for continued business operations. The adage, money doesn't grow on trees is befitting such market undercurrents. As budgets are in short supply, businesses are moving away from CAPEX and adopting efficient OPEX options to optimize their spends. Saying no to cybersecurity isn't an option anymore, but reducing your total cost of ownership (TCO) and devising a predictive spend plan for your cybersecurity needs is the way to go. In short, signing up with a mature cybersecurity service provider will not just safeguard your business transformation but will also help you with predictive spends on your cybersecurity needs.
Best-of-Breed Technologies
The cybersecurity vendor landscape has witnessed an influx of exciting new technologies over the years. Innovative cybersecurity startups have gone on to become Unicorns and have pushed incumbent vendors out of contention. This has also posed a challenge for customers. It is impossible to continuously keep investing in the latest and greatest cybersecurity technologies. Prohibitive technology onboarding and enablement costs are a deterrent, over and above justifying the ROI of the previous spend. One way of accessing best-of-breed technologies is to rely on a cybersecurity services provider who keeps augmenting their service-led portfolio to stay ahead of market expectations. By outsourcing cybersecurity needs to a reliable services provider, organizations can avail cutting-edge technology innovations and trained capabilities without breaking the bank. It also ensures that businesses do not carry the burden of technology obsolescence.
The Security as a Service market size is estimated to grow from USD 7.6 billion in 2018 to USD 16.5 billion by 2023, at a CAGR of 16.9% during the forecast period.(Source: Industry Analysis Insights, Future Growth, New Trends, and Forecast-2023, Marketwatch)
Digital transformation has expanded an organization's threat exposure and has introduced newer levels of risk. To circumvent this and stay secure 24×7, IT teams are adopting a more pragmatic approach and outsourcing their cybersecurity needs to a dedicated security services provider. The services provider works as an extension of the organization's IT team and offers them 'peace of mind' while they focus on their core business, leaving it for the highly skilled services provider to keep the bad actors at bay.
The Help AG Edge
'Help AG as a Service' is the culmination of the company's transition from technology delivery to a service-centric model, which has placed it in the best position to offer the entire lifecycle, from 'Assess' to 'Defend' to 'Respond,' as a service to customers. Commenting on the launch of the service, Stephan Berner, Chief Executive Officer at Help AG, said: "Help AG has been one of the region's most experienced and trusted cybersecurity partners for more than 16 years, and with the launch of Help AG as a Service, we are truly cementing our place as a pioneer in the regional cybersecurity industry. The future of cybersecurity will be service-led, and Help AG is at the helm of this evolution.
To accomplish this success, Help AG has implemented fundamental building blocks within the organization that include:
Product / Service Management Capability
Help AG has purposefully invested in a team of cybersecurity product management experts that oversee the process of augmenting the current solutions / technology offerings into a service-led approach. This team administers both technical and commercial due diligence through a well-defined Product Life Cycle management process.
Agile C2M Process
Help AG has adopted an agile Concept to Market (C2M) process to facilitate quick rollout of services, powered by the region's largest and highly skilled cybersecurity operations center (CSOC) team. The C2M uses a phased approach that comprises ideation and validation, planning and assessment, implementation and ready for and launch of the services.
Services Roadmap
In this changing landscape of threats and market needs, Help AG has been able to proactively identify and rollout, a services roadmap to exceed the customer expectations. The product management team, defines a yearly services roadmap that is launched using the agile C2M process, through the year.
CONCEPT TO MARKET – PHASED APPROACH
Ideation & Validation
Concept Paper Vendor Scouting Technology Selection Customer Pitch Feature Validation/POV
Plan & Assess
BRD & Architecture Contract & Legal Commercial Business Case GTM Planning
Implementation
People Process Technology Readiness
Launch Phase
GTM Readiness Artefacts Creation GTM Rollout
Vendor Strategy Roadmap
Help AG has cemented strategic relationships with leading cybersecurity technology vendors to help with their service innovation. During the Service-Centric Business Evolution, Help AG further matured the partnerships into MSSP relationships with access to latest innovations from the partner ecosystem. Help AG also implemented Vendor Incubation programs with the intent to identify innovative cybersecurity start-ups and niche technologies and help nurture them as part of our services led transition.
Continuous Evolution
Services that are transitioned into CSOC operations, go through a continuous evolution process to meet the ever-changing needs of our customers. The product management team continuously works on identifying expansion and innovation opportunities of the current offerings in addition to cross pollinating or bundling services to suit the customer needs. A customer success management function within Help AG consolidates customer feedback that helps in continuous evolution of the services.
To strengthen the Help AG edge and lead the market, we are committed to investing in advanced cybersecurity capabilities across the region and working closely with innovative technologies to fulfil our customer needs and ensure their business continuity.
During the Help AG as a Service launch event, Stephan Berner, Chief Executive Officer at Help AG, rightly summarized the above in his address: "Years ago, we built our service offering from the ground up with a commitment to delivering truly global and advanced security services while molding them to address regional market threats and requirements. Our offering has been received very well in the market, enabling us to become the biggest Managed Security Service Provider in the Middle East, and driving us to take our service-centric transition to the next phase with Help AG as a Service."